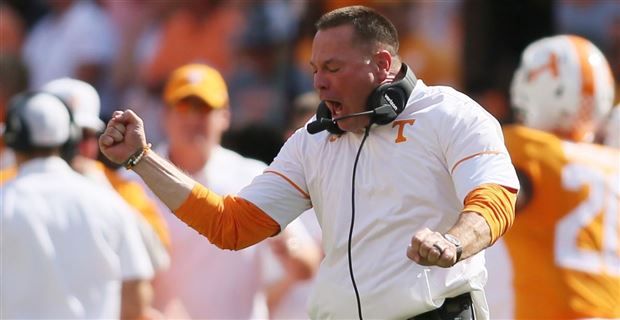 Tennessee is fresh off a bye week, and it would seem Butch Jones used the time off to replenish his store of corny phrases. During his Monday press conference, the Volunteers coach proclaimed this Tennessee's most successful bye week in years and introduced us to the term "leadership rep."
Butch: "That was one of the best bye weeks we've had here in a very, very long time."


— GoVols247 (@GoVols247) October 9, 2017
Butch: "You don't have to get a physical rep to get a rep. You can get a leadership rep."#LeadershipRep


— Wes Rucker (@wesrucker247) October 9, 2017
"Leadership rep" appears to be a variation on "mental rep," a phrase commonly used to describe the reality that players can learn from watching others play as much as they can from playing themselves. But here Butch has put his own folksy Midwestern spin on it, and it plays right into the caricature of Jones as a red-faced fumbler who masks shortcomings with motivational phrases stolen from posters hanging on the walls of a high school guidance counselor.
Jones is far from the only college football coach who traffics in these kinds of hokey sayings. But the Tennessee coach has a knack for breaking them out at the absolutely worst possible times. And like a great stand-up comedian 30 minutes into his set, it doesn't matter so much what Jones says anymore; as long as he delivers the punchline in his familiar Butch Jones cadence, the audience will laugh on cue.
And here he is, sandwiched between a historically lopsided loss and a must-win game against a coach he's (somehow) never beaten. And sure enough, he's got a homespun neologism for the occasion.
Tennessee is 3-2 and needs a win at home over South Carolina to avoid a fight for bowl eligibility that could extend to the final week of the regular season. After the Gamecocks, the Vols travel to play No. 1 Alabama and 5-1 Kentucky.
"Leadership rep" now stands alongside "five-star hearts" and "champions of life" in the pantheon of cringeworthy Butch Jones quotes. It will be interesting to see if he'll be given time to add to this list as Tennessee's head coach.