Written by
Sriram Veera
| Guwahati |

Published:October 10, 2017 1:34 am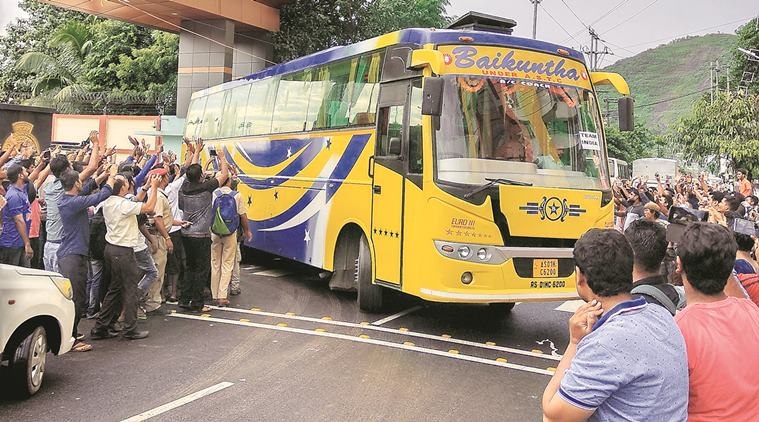 The Indian cricket team's bus in Guwahati on Monday. (Source: Express Photo by Sriram Veera)
Indian cricket team's airplane didn't come to a stop in the runway where other commercial flights stop at Guwahati on Sunday. It kept rolling on and came to a halt near the hangar. About 200 people swarmed the flight. Almost the entire airport staff had gathered. When the cricketers emerged, they were garlanded, the traditional Assamese shawl was wrapped, their foreheads turned crimson with tilak, and selfies were taken. It took nearly 20 minutes to get to the terminal. Guwahati's celebrations with the return of international cricket after eight years had just begun.
That evening a big crowd had gathered at the new cricket stadium at Baraspara, flanked by the hills. The Indian team was not even there; they were at the hotel but people hung about the stadium in hope. When the television crew trooped out after rigging in the cables and completing their set-up for Tuesday's game, it was nearly 11 in the night. They were shocked to see people still waiting outside. "We have covered the game in many small towns but this was something different. No one was even listening that there were no cricketers in the stadium!" one of the crew members said.
On Monday, hundreds of fans lined up outside the gated stadium, waited for four hours at least, and had two opportunities to spot their cricketers – when the team bus rolled in and when it departed. Chants filled the air, and hundreds of hands waved in the air.
Once upon a time Guwahati, and Assam, was like the rest of the north east – largely a football fanatical state. A night bus journey away lies Jorhat which in the 80's used to filled with kids playing football. The likes of famous Bengali footballer Babu Mani was a rage back then but Assam wasn't just fixated on national or international football. It prided huge following on its local football games.
Unlike rest of the North-East region, football has fallen away a bit in Assam, especially in its bigger cities. Not really alarmingly but it isn't the way it used to be here. Cricket has stepped in. Much has to do with the changing demography of the place – with people coming from all across north east, Bengal, Bihar, and from Bangladesh as well. And cricket grew more popular.
Not that everything is well in the world of cricket here in Assam. "It's largely a cricket-watching state than playing," says Sanath Kumar, the Karnataka cricketer who has two stints with coaching Assam Ranji team. In its second stint, in 2014 to 2016, Assam saw its best results – a jump up from elite in the first year, and a spot in the semis in the second year. Sanath remembers getting congratulatory messages from Assamese fans, and his facebook wall filling up with happy graffiti.
Lack of vision
The problem lies in the lack of vision of the authorities, he feels. The list of problems is endless – very limited group of players, not many grounds, lack of local leagues, and hence no stiff competition. Sanath feels they can take a leaf out of the football book from the past. "Have say six teams – Railways, BSNL, Postal circle … and start a proper league. Not only would you get competition but also probably get the boys jobs, a very crucial thing in this state. Build few grounds in the state, at least around Guwahati. Or at least sign up with schools and colleges to maintain their grounds, and use them."
The one of the key factors is the weather here – it can rain for six months at times. Sanath feels indoor stadium is a must for practice but that never eventuated in his time despite repeated pleas. As in many smaller associations, the dream is to have a floodlit stadium to have international matches, which happens once in 8 years in Assam's case. "They spent some Rs 6 crores for those floodlights couple of years ago, which lay in disuse till now. A nice indoor facility would have cost Rs 2 crores. Money can be used to build school and college competitions."
It might come to an emergence of a top-class cricketer who can sweep the state along with him and aid in growth of real cricket. Sanath feels Assam has found one this year. In July, the 15-year old Riyan Parag was selected for youth Tests in England, and hit a 33-ball 50, second-fastest behind Virat Kohli in recorded youth Tests, and followed it up with a more patient fifty in the next Test.
"If he is monitored well, I think he has the potential to play for India one day," says Sanath. The hope here is when the state finds a home-grown boy reach the stars, the rest might follow. As things stand, it's honours are almost even in Assam between football and cricket. Football has history, cricket has future – and in the here and now, both are up for grabs.
For all the latest Sports News, download Indian Express App