COUNTING DOWN TO THE BIG ONE AT BEVEREE STADI … OH, ANFIELD
José Mourinho does not pick the Premier League fixture list. Because, of course, the schedule is usually chosen by some evil paranormal force that bears an unfounded grudge against him, just like everyone else. But if the two-time Big Cup winner with the most powerful Mr 15% in football did have any kind of influence, he could hardly have chosen a more gentle way to ease his team into this domestic season after that harsh Super Cup lesson at the hands of Real Madrid.
So far United have hit four goals past: (1) a West Ham side so submissive that they turned up at Old Trafford in g1mp suits; (2) a Swansea team that clocked off after 80 minutes; (3) a blue excuse offered up by Ronald Koeman; and (4) a Crystal Palace outfit so down-on-its-luck that it turned to Mr Roy for a confidence boost. Throw in a 2-0 win over Leicester and a 1-0 victory at Southampton and United have beaten five of the Premier League's bottom six teams so far and a side whose attacking plan consists of placing Shane Long, Nathan Redmond and two banjos in close proximity to some cattle and seeing what the pair manage to hit. No wonder United are many people's favourites for the title and lots of folks think Mourinho is building a ravishing thrill-machine. Let's see where he parks it at Anfield on Saturday, eh?
"We've prepared very well," chirped Mourinho's midfield disciple, Nemanja Matic, adding: "The manager got some videos for us to see what they have in their team and how we can stop them so I'm sure we will be ready for them." Not much there about how United plan to get on the front foot but perhaps that is understandable given that knack has deprived them of Marouane Fellaini, who would have been, after Simon Mignolet, the player most likely to spook a Liverpool defence notoriously nervous at set-pieces.
Jürgen Klopp has no doubt also spent much of this week watching videos. But sobbing over images of Sadio Mané pulling up lame while on international duty will get Liverpool nowhere on Saturday. They need someone to step into the Senegalese's shoes and do what he does. Alex Oxlade-Chamberlain, perhaps? It's the most hyped-up match of the season so far, but both managers would probably take another 0-0 right now.
QUOTE OF THE DAY
"I understand why some people think footballers are selfish. But people also underestimate football. When good comes out of it then it is a very fair sport. If you have the talent and dedication you can do well no matter where you come from. In that way football is like boxing. It gives hope to so many people. It's incredible what football can do to change lives" – Juan Mata brings the truth in this ace chin-wag with Donald McRae.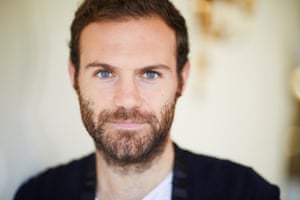 NOTIFICATIONS AND QUERIES
Big Web App is launching its new and improved Premier League notifications. Get more details and sign up here.
SUPPORT THE GUARDIAN

Producing the Guardian's thoughtful, in-depth journalism – the stuff not normally found in this email, obviously – is expensive, but supporting us isn't. If you value our journalism, please support us by making a one-off or recurring contribution.
FIVER LETTERS
"Mesut Özil and Alexis Sánchez (yesterday's Fiver) are not joined at the hip and not necessarily going to the same team. Thus their departures from Arsenal should be referred to as two separate events, Mexit and $exit" – Connor Flanagan.
"So we say goodbye to Scotland's latest false dawn, Darwinism's Wee Gordon Strac-gone. I read that the main contender to add freshness, much-needed optimism and pace into the perennial not-really-underachievers is David Moyes. Oh. On the bright side, I do think Scotland will qualify from Group C in the Nations League against Narnia and the republic of No10 Hambledon Crescent, Redcar, England … while England lose four times on penalties to Germany and Spain" – Andrew Tate.
"Wee Gordon gone? He came up short" – Tom Duignan.
Send your letters to the.boss@theguardian.com. And if you've nothing better to do you can also tweet The Fiver. Today's winner of our prizeless letter o'the day is … Connor Flanagan.
BITS AND BOBS
Mauricio Pochettino has accused Pep Guardiola of showing a lack of respect towards Tottenham by calling them "the Harry Kane team". Admit it, you've missed this. "Sometimes he struggles to keep his position and be a gentleman," sobbed the Spurs boss, presumably through his newly-acquired 19th century translator. "The situation didn't affect me but, in reality, it was very disrespectful for many people."
Jürgen Klopp says he's unhappy with England for playing Jordan Henderson in Lithuania. Join the queue, Jürgen!
USA! USA!! USA!!! coach Bruce Arena has done one. "No excuses. We didn't get the job done, and I accept responsibility," he tooted. "I maintain a fierce belief that we are heading in the right direction."
Scotland have only gone and placed Malky Mackay in charge for their failure derby with Holland on 9 November.
FC Sion president Christian Constantin isn't having any of his 14-month ban for attacking TV commentator Rolf Fringer. "It makes me laugh," he laughed. "I was not even called or heard [by the disciplinary commission]. If they want a war, they'll have a war. We'll see who is standing at the end."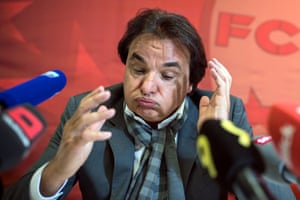 Intent on ensuring they don't get the wool pulled over their eyes, Newcastle United have handed Dortmund loanee Mikel Merino a five-year contract.
Fifa has spotted a chance for cash and may now investigate Tim Cahill for what appeared to be a flamin' sponsored goal celebration in Australia's win over Syria. A flamin' sponsored goal celebration!
Atlético Madrid president Enrique Cerezo wants fans to avoid turning Saturday evening's game with Barcelona into a political demonstration amid rising tensions between the Spanish government and Catalonia. "It's a game of football," he sniffed. "Atlético won the league in the Nou Camp [in 2014] and the whole stadium applauded us, we can't forget that."
Five Ecuador players have been suspended from the national side for indiscipline after sneaking out of their team hotel before the 3-1 defeat by Argentina. "Once [coach] Jorge Celico's report was with us, with the details of all the facts, the committee decided unanimously to suspend indefinitely the five players involved," parped the Ecuadorian Football Federation.
And Valerenga manager Ronny Deila reckons he inspired his new side to a crucial win against Brann last month … by getting his kit off. "A lot of people have probably seen me nude already," he bragged. "I don't know if it was pretty, but it worked well. I cannot do it every time. Then it loses the surprise effect."
THE RECAP
Sign up and receive the best of Big Website's coverage, every Friday, it says here. Seems to be a curious lack of mentions for The Fiver …
STILL WANT MORE?
You can't win anything with kids – except for the Under-17 World Cup, obviously. Michael Butler reports on England's next generation shining in India.
Get your 10 Premier League things to look out for this weekend while they're lukewarm.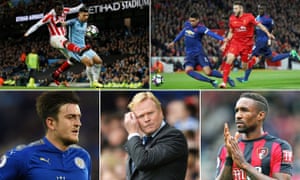 Arsenal's fondness for a good crisis goes back further than you might think, writes Steven Pye, as he recalls their unhappy Easter of 1986.
Scotland's next manager must learn from Wee Gordon's shortcomings, honks Ewan Murray.
Two years in, Liverpool "are looking a little feverish and flustered, all trapped energy, legs whirring like a cartoon roadrunner suspended above the canyon floor", yelps Barney Ronay in this assessment of Jürgen Klopp's progress.
Anfield's Centenary Stand will be renamed after Kenny Dalglish, and Lord Ferg will be putting aside their old animus to celebrate, writes Andy Hunter.
'Arry Redknapp: cryptocurrency 'fan'.
Oh, and if it's your thing … you can follow Big Website on Big Social FaceSpace. And INSTACHAT, TOO!
THE BROKEN TOE BLUES